Description:
Yourhub Hotspot Gateway includes all the features required to provide a professional WiFi Hotspot from your business. Pair the Yourhub Hotspot Gateway with any combination of UniFi Access Points to maximise your wifi coverage. Offer customised packages to your guests or users including complimentary and or paid wifi packages.
FEATURES
- Limit complimentary WiFi Data per User
- Customised WiFi Packages
- Limit Guest Usage by Time and or Data
- Accept Credit Card, Mastercard and PayPal Transactions
- Create User Accounts Manually
Default Landing Page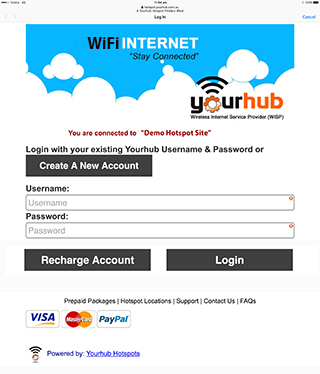 Just want to offer a controlled amount of Complimentary internet to guests? That's ok we can do that too. For more information please contact us on 1300 762 568.